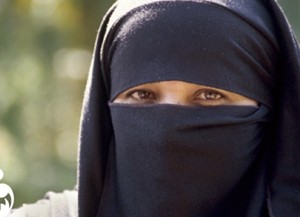 Running Time: 45 minutes
Producer: Ed Robbins, Producer/Reporter: Sharmeen Obaid
Year: 2003
Aired on: Discovery Times Channel
"Reinventing the Taliban" brings a uniquely personal perspective to the disturbing rise of radical Islamic fundamentalism within Pakistan. It follows Sharmeen Obaid, a young Pakistani woman, who despite warnings of the dangers decides to travel into North West Pakistan, a stronghold of Islamic fundamentalism.
In the documentary, Ms. Obaid visits Peshawar in northwest Pakistan, the center of the MMA alliance, to meet with supporters of the fundamentalist movement, including outspoken leaders and ordinary working people. From a packed MMA street rally to a giant weapons market, the film provides a rare look at the rise of this Taliban-like movement. Leaders of the MMA openly speak of their goals to create a traditional Islamic society modeled after the Taliban that reflects their beliefs in the oppression of women, limited civil liberties and anti-American policies.