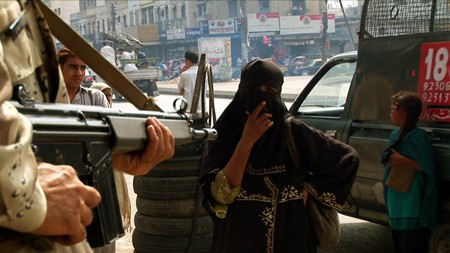 Running Time: 24 minutes
Producer: Claudio Von Planta, Reporter: Sharmeen Obaid Chinoy,
Year: 2005
Aired on: Channel 4
Pakistan is a frontline state in America's war against terrorism. Since September 2001, Pakistan has arrested top Al Qaeda operatives and has launched a drive to eradicate terrorism from its soil. Reporter Sharmeen Obaid Chinoy travels across her native country of Pakistan to gauge the reactions of ordinary citizens who feel that their president is selling out to the west.
Obaid-Chinoy starts her journey from one of the most notorious jails in Pakistan, Karachi Central Prison. Here, she meets jail superintendent Niazi who talks about the attempts on his life by radical Islamic fundamentalists. Across Pakistan, she meets army personnel and police officers who reiterate the same message; that terrorists are gaining in strength and their violent ideology is difficult to counter because of the limited resources available to the law enforcement agencies.