Citizens Archive of Pakistan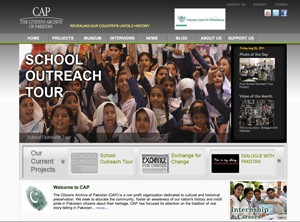 Sharmeen Obaid-Chinoy, is the President and co-founder of a not-for-profit, the Citizens Archive of Pakistan (CAP). CAP is dedicated to the preservation of Pakistan's rich culture and history. Formed in February 2007 CAP has within four years of its inception expanded to Lahore and is forging partnerships with Islamabad, Dhaka and Delhi.
CAP works on historical preservation, promotion of democratic values and building tolerance and civic sense in the youth of Pakistan. The organization has three main goals: to preserve, provide and promote access to its Oral History archive, to build and support educational programs that instill critical thinking and to develop educational products that provide the next generation with a window into the nation's past, present and future. It runs several projects, including the School Outreach Tour, Dialogue with Pakistan and the bi-annual Shanaakht Festival.
To learn more about the projects CAP is involved with, visit our website or our YouTube channel at www.youtube.com/citizensarchive.org and the website www.citizensarchive.org/dialoguewithpakistan.
Charter for Compassion Pakistan
Sharmeen is a founding board member of the Charter for Compassion Pakistan. The charter is based on the original Charter for Compassion initiated by Karen Armstrong. In 2008 Karen Armstrong was awarded a TED prize in Long Beach, California http://bitURL.net/br2b.
The Charter is a co-operative effort to restore, not only compassionate thinking but, more importantly, compassionate action to the center of religious, moral and political life. Compassion is the principled determination to put ourselves in the shoes of the other, and lies at the heart of all religious and ethical systems.
By adopting the Charter of Compassion in Pakistan they hope to raise awareness, encourage and share acts of compassion with fellow citizens to stir a desire to change the global community collectively. This project is a small step for Pakistan towards becoming a compassionate country. Its first project is to create a Facebook application to be launched this Ramadan to encourage citizens to record their acts of compassion hence encouraging those around them to do the same.